This post may contain affiliate links which may give us a commission at no additional cost to you. As an Amazon Associate we earn from qualifying purchases.
I've been to a handful of conferences for mom bloggers and one thing I consistently hear about is how bloggers need to incorporate video into their sites. Brands want videos. Your readers want videos. Video sets you apart from every other blogger out there who is developing similar content to yours, etc.
I've always had fun making videos on my own YouTube channel but in 2013 I decided to really focus on growing a subscription base there. I decided to jump into the world of YouTube to uncover the mystery of that platform and simplify some of the mystery behind YouTube for bloggers who are interested in integrating video onto their own websites. Here is what I learned.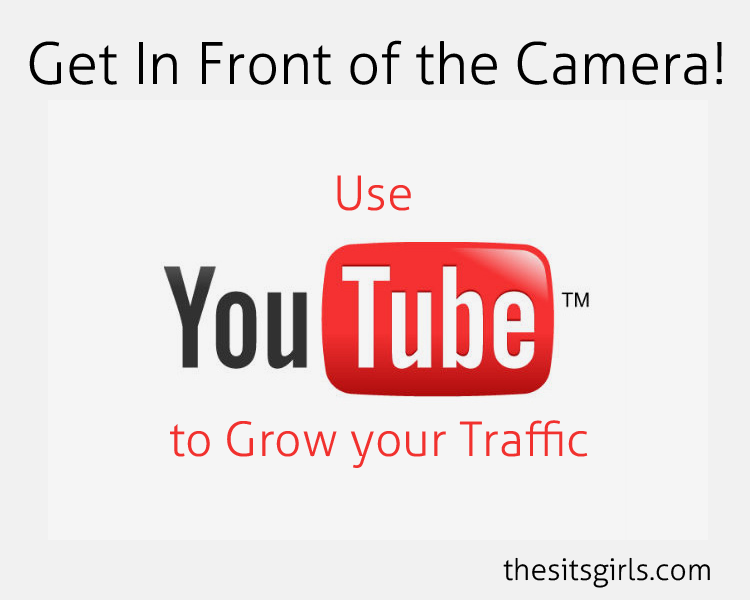 How to Use YouTube to Grow Your Traffic
YouTube is a great way to grow your traffic, brand and get your message in front of a whole new audience. If used correctly, YouTube can help you take your brand to a whole new level.
YouTube Is A Community
Just like blogging people create regular content on their YouTube channels and just like the blogging community you have regular viewers who loyally comment and engage in videos. They have conferences, they network, they share each others videos, they comment on each others videos, they become friends and create tribes. Just like us. Where you and I might write a blog post about a difficult time we're having with the terrible twos, the mom vloggers on YouTube will vlog about the same topic. Their videos ARE their blogs.
YouTube Has Niches
YouTube and blogland are sister wives. They operate in exactly the same way but one is in video format and the other is written. Once you understand that, it's easy to wrap your minds around how things work over there. Here, there is some focus and pressure to brand yourself and identify with a niche. If your blog is a memoir style blog then that's what people expect you to stick with. If you are a fashion blogger, people can expect to see your latest boot purchase when they visit.
YouTube works exactly the same. There is an entire community of mom vloggers, beauty vloggers, review vloggers, humor vloggers, etc… Some even have specific days that dictate what kind of video you can expect to find. Monday Review Days, Tuesday Day In The Life days, etc. Deciding where you fit in, what kind of content you want to provide, and establishing a relationship with like minded vloggers is important.
Whatever content you decide you want to create, I highly recommend adding some of kind of review element to your videos, because if an opportunity comes up where a brand is hiring you to plug their product, you want it to be a seamless fit.
There Are "Big" YouTubers 
YouTube also has it's own heavy hitters and more of them. It is not uncommon to stumble upon a video, click through to view more and see that person boasts more than one million subscribers. In fact, I've seen that vloggers with less than 100,000 subscribers often described as "up and coming vreators". I can't even wrap my mind around that.  Jenna Marbles is one of YouTube's biggest stars. She has more viewers than any other female on YouTube (including Ellen DeGeneres) with over 12 million subscribers and over 2 million views on nearly every video she uploads. She's just a girl. A girl who sits in her bedroom, tells it like it is, makes people laugh, and somehow hit the jackpot.
YouTube Is Intimidating
It's easy to get discouraged when attempting to build a following on YouTube. When I realized growing a following there takes as much work as it took to grow a following in blogland I threw a mini temper tantrum, "But I've already put in my tiiime…it's so harrrd…I can't edit…I'm so far behind!"
But just like blogging you have to enjoy creating video for creativity's sake or it won't work. Take your time, find your voice, develop your niche, and learn about the space. Consider it a blessing that you are not starting out of the gate with 100,000 subscribers, because "finding your voice" and getting comfortable with that platform is a lot less embarrassing when no one is watching.
So take your time, learn to edit, be consistent and let the slow build begin! It would probably help to make goals and decide what it is you want from YouTube. A lot of YouTubers you see trying to make something of their channels are aspiring to be and/or do something in film or television. Do you want to be an actress? Do you want to be a YouTube star? Do you want to make money off ads on YouTube? Do you just want a strong platform of followers so brands will hire you to review their products? How can YouTube compliment and add to what you're already creating? Come up with a plan and jump in!
I plan on sharing many more YouTube revelations, video tutorials and vlogging tips with you this year so make sure you're subscribing to the SITS feed and don't miss a post! If you're interested in building a vlogging community with me, be sure to check out my own weekly vlogging link up. I provide five vlogging topics each week and host a link up for your videos. It's a lot less intimidating when you have the support of a community!
KEEP READING!
Looking for posts similar to this one on YouTube for bloggers? Then be sure to click through the below links or head over to our YouTube page to find some awesome vlogs!