This post may contain affiliate links which may give us a commission at no additional cost to you. As an Amazon Associate we earn from qualifying purchases.
Have you ever looked at those Pinterest bloggers with millions of loyal fans and thought, heck, how on earth do I get that too? What are the Pinterest tips that I should be following to grow my account into the stratosphere?
Whether you're a blogger, a business owner, or simply an avid Pinner, having a strong following on Pinterest can do some great things for you. After all, this social network has huge referral power, could help you land a job, or expose more people to your brand.
But I know what you're thinking, with SO many people on Pinterest (which has now hit the roof at 70 million users – wow) standing out in such a big crowd seems, well, impossible.
Only a handful of people seem to have mastered Pinterest, gaining millions of followers, traffic and business opportunities from it.
But you don't need to leave all that goodness to the power users. It's time that we joined in.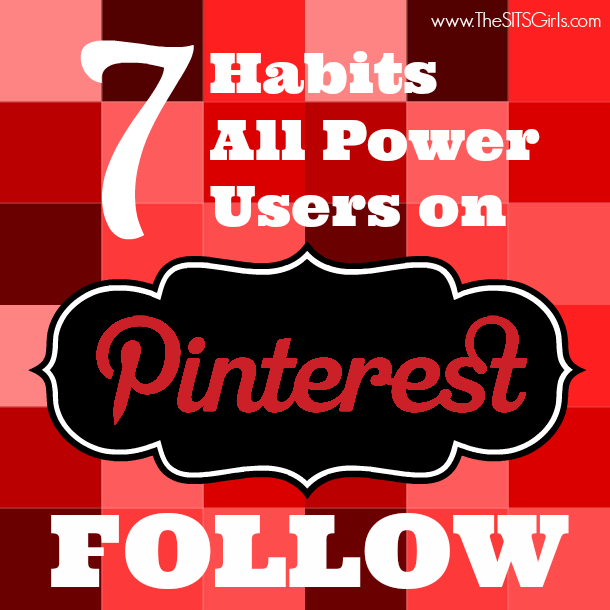 7 Pinterest Tips You Need to Become a Power User
So to give you hand, here are a list of 7 Pinterest tips that nearly all of the top dogs on Pinterest have acquired/done, and how we can emulate their success too.
1. ONLY Pin High Quality, Appealing Pictures
Now this is the big one! What do all the top Pinners have in common? They don't pin mediocre, 'kind-of-OK' pins, oh no no no.
They go all out collecting a database of the BEST images there are and compiling them together to create one gob smacking great board.
Who's doing it like a pro? Bright.Bazaar is an amazing example of someone who finds the most appealing images; just take a look at his Fantastic Events board if you don't believe me!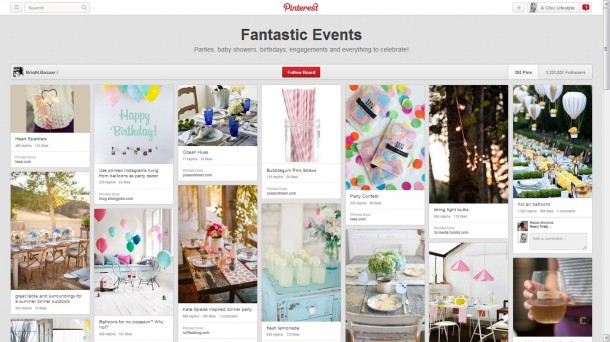 How can I do this too? By always sticking to this golden rule:
Only pin photos that make you feel excited.
If your reaction to an image is along the lines of 'well this is sort of nice?' then step AWAY from that pin button, my friend.
If you don't feel excited by it, then chances are your followers aren't going to be that bothered about it either and will simply ignore it.
Remember, there are plenty of mediocre Pinners out there that never stand out. You don't need to be one of them.
2. Have Striking Board Covers
Their board covers are appealing and work well together. They also all follow one major theme such as vintage, black and white, colourful etc.
Who's doing it like a pro? Just take a look at French food blogger Griottes, talk about a real treat to the eyes! All of her board covers follow one theme (vintage/whimsical) and have the same colour scheme too (pastels).
The individual images also work well together and have one main subject in each of them (like the bear, the cherry blossom branch, or the feet), so they're not too crowded and busy, all trying to fight for attention.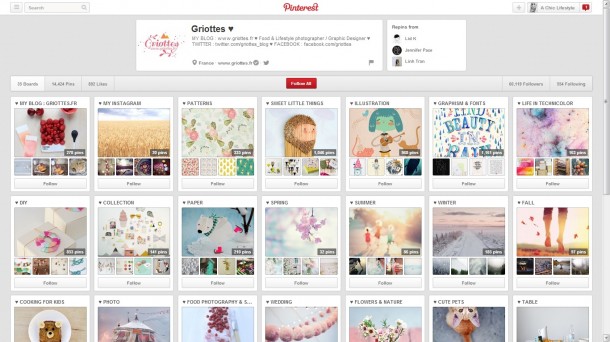 3. Mostly Pin Yourself, Not Repin
The great thing about finding your own photos on the web to pin, rather than simply repining others all the time, is that you'll find it easier to get found in the search area, so that new users can find you.
Just make sure that you use the hashtags well and only use keywords that A) people will be searching for, and B) describe the picture literally (eg. Shoes, heels…) rather than abstractly (eg. magically pretty, awesome…).
Also, when you include hashtags don't randomly spam the description box (I won't lie. I've been guilty of this!), instead integrate them into a normal sentence (they're much easier to read!).

Let's take a look at some examples:
The first one is awful! The sentence is disjointed and awkward with lots of seemingly random hashtags polluting it (yep. Well done to me, ha!).
The second one however is MUCH better. The description is made up of fluent sentences, is useful (I've included the price and store that the top is from), and I've managed to get my main keywords 'silk' 'sleeveless' and 'top' in there neatly, without them sticking out like a sore thumb.
4. Have Unique and Intriguing Concept Boards
These Pinners go out of their way to do something new and fresh, and they sure do stand out and interest people this way!
Who's doing it like a pro? My favourite example of a hugely successful concept board has to be 'My imaginary well dressed daughter' by Tiffany Beveridge.
Unsurprisingly, this has gone viral on Pinterest, attracting over 70,000+ followers who are highly engaged (just take a look at how much people love it in the comments section)!
This board follows the hilarious story of a rich toddler called Quinoa and her life, with funny commentaries and sarcastic jokes.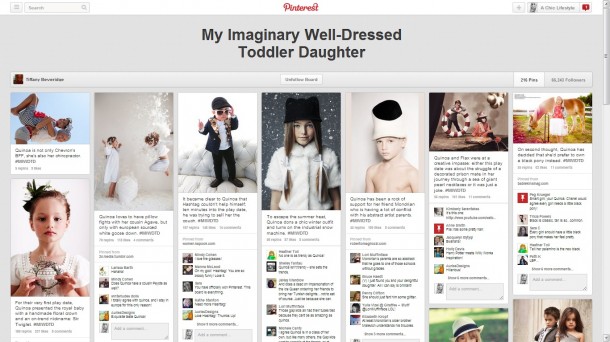 5. Have Boards with HUGE Archives to Dive Into
Pinterest power users often have boards with hundreds, if not thousands, of pins for visitors to get lost into for hours.
Who's doing it like a pro? Joy Cho, one of the biggest Pinners around, that's who!  Her baby board has nearly 1000 pins. So if you're a parent looking for cute baby products, then you'll have no need to search anywhere else, Joy has got you covered.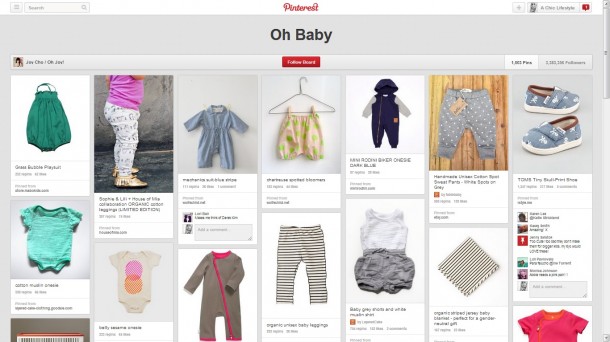 6. Publish Pins That Are Helpful and Solve Problems
Who's doing it like a pro? Just take a look at LevoLeague's career resources board. They have loads of pins there to help you deal with any career crisis you're having, from getting tips on surviving your first week at a new job, to becoming an entrepreneur.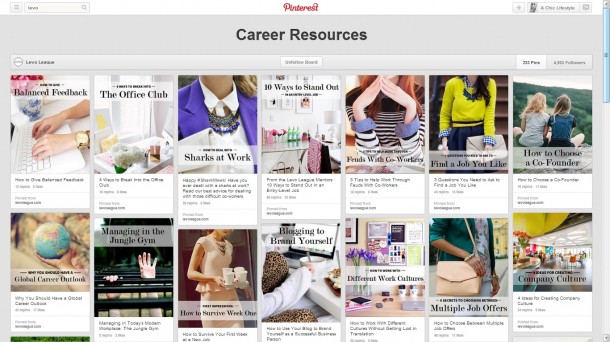 How can I do this too? If you want to create a similar board focusing on advice, then take LevoLeague's lead and choose photos that are not only appealing, but also have the problem they will be addressing written on them clearly (this makes it very easy for viewers to see what benefit they'll get by clicking through on that pin).
7. Create Community Boards and Invite Others to Join
Who's doing it like a pro? This is one that I personally use, and has been the biggest reason for my rapid growth on Pinterest. For about 6 months I was quietly pinning away with only 200+ followers to show for it. Fast forward a few months and 5 community boards later, and I now have over 5000 followers, with more than 20 new people following each day without me having to do much at all!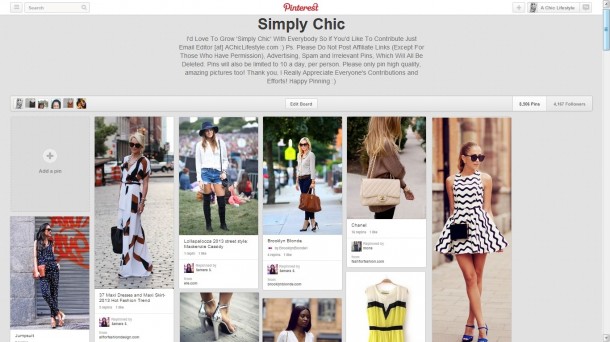 You see, when you invite people to your boards and they accept, your board will appear on their Pinterest pages and attract their followers too. So with over 500 other pinners involved in my community boards, that means 500 other profiles have a link and follow button to my Pinterest page on it!
The other up side to community boards is that you don't have to worry about updating your boards every day, because there's a whole team behind you who will lift that pressure off you. Simply Chic is updated multiple times a day by its awesome members, who together have created a massive board (with over 7000+ pins!) which I could never have done on my own.
There are a few downers though, as you lose control of the quality of the pins. There have been times when I've seen a pin on there and thought 'hmmm…this really doesn't fit well with the board', and felt uncomfortable telling the Pinner or deleting their pins. But all in all, it's been well worth creating community boards!
Now What Should I Do?
Now that you've read all of our Pinterest tips for power users, it's time to act on the information you've just absorbed of course!
Let's start with some baby steps:
Choose 1 habit that I've listed above to try, and choose when to do it (maybe now, or will you schedule a Pinterest clean-up session for a day that you're free?)
Once you've done that, come back to this page (bookmark buttons at the ready girls!), and choose one more habit to try. Then keep going until you've done all 7 Pinterest tips!
What Do You Think?
Which Pinterest tips are you planning to try first? Which habits do you think you're already got mastered (or nearly!), and which ones do you think you could improve on?
Want More Pinterest Tips? Keep Reading!
If you enjoyed this post on using Pinterest, then keep reading. We have more for you!
About the Author: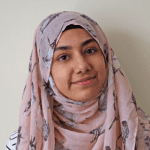 Hey, I'm Sanam Mohammad. The sarcastic, high aspiring (almost bordering on the point of being nuts) student blogger, encouraging young women to pursue their big-to-insanely-HUGE ambitions at A Chic Lifestyle. Girls, let's connect on Twitter @AChicLifestyle!