This post may contain affiliate links which may give us a commission at no additional cost to you. As an Amazon Associate we earn from qualifying purchases.
Today we are going to tackle your home office space. Whether you're working at home for the first time, or you have been working at home for a while because you are a crafter, mompreneur, virtual assistant or are lucky enough to have no commute, I've got some suggestions to spruce up your home office.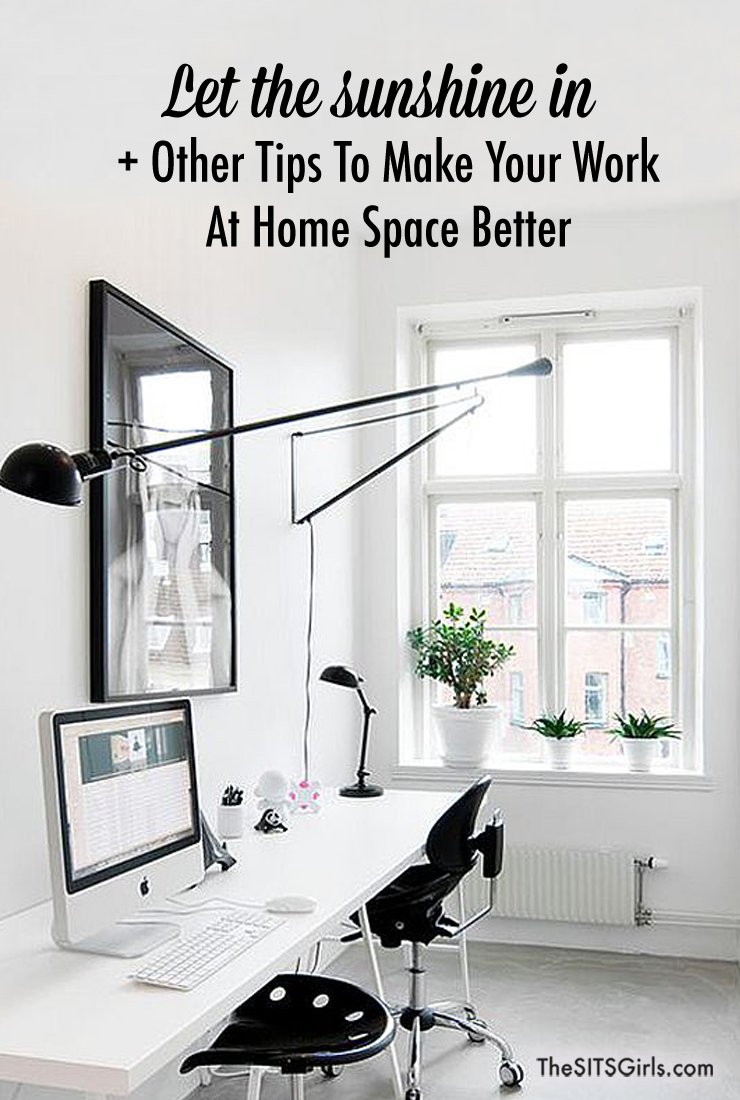 Create An Inspiring Home Office Space
Some of these suggestions are common sense, but I wanted to include everything I do spruce up my home office. As a stay at home mom with an Etsy shop, it can be easy to close the door to my office and call it a day. I've made my home office a priority with these simple tips. I know they will make a difference in your office!
1. Open your window. I don't know about you, but I'm always cooling or heating my home. I have to remember that opening a window is healthy for me and forgo how long it takes to heat or cool the house after the fresh air comes in.
2. Clean your room! I don't just say this because I'm a mom and it rolls off the tongue easily. Having a clean and organized space frees your mind for creativity and productivity. Personally, when my desk is cleared of clutter I am less likely to procrastinate. I also feel that by cleaning up my work space is like a gift of respect to myself. I work hard at my hand embroidery business and just because it's a home based business doesn't mean it's not as important or vital as any other business. Treat your at home business with respect and try to keep a clean space. I clean my desk and workspace nightly.
3. Fresh flowers. Don't have a window in your office, consider picking up some fresh flowers from the supermarket. I can snag 6 roses for $10 on Tuesdays. Looking to be more frugal (or have a black thumb, like me)? Consider buying some succulents for your office. A green, low maintenance plant is a nice touch on your desk and for some reason, looks uber-chic and Pinterest worthy, no?
4. Printables. You don't need a quazillion dollars to have pretty things on the walls. Head over to Etsy and type in desk printables or wall printables and take your pick! I've paid $5 for downloadable images that are inspirational, faith driven, and full of color. Snag a frame from the dollar store and you've just made a VERY economical investment in the visual aspect of your space. Choose bright colors to keep the happy at an all time high in your office!
5. Make a DIY Zen Garden. You know, with the rake, sand, and rocks? Mini Zen gardens are a great way to reset in the middle of a stressful blog post, conference call or creative block. A few swirls and doodles in the sand and you're ready to recommit to the issue and tackle it. Here is an easy post that show you how to make your very own mini zen garden. This one even combines a succulent with the zen rock garden. Of course, you can always head over to Etsy and buy one already made for you.
6. Color coordinated office supplies. Here's another place where you don't need to spend a lot of money to make a statement. Head over to Target or the Dollar Store and hit their office supply section. Mix and match to your heart's content. Don't stop at just file folders and desk organizers, if at Target, snag some colored pens, pencils and little notebooks from the entrance (usually $1)
7. Essential Oils. Essential oils are ALL the rage right now. Literally, I just texted that to a friend as I write this. You don't have to invest your first born to have an essential oil collection to get you through the grey days of winter or the usual self doubt that comes with being a work at home rock star. If you can't afford a diffuser, that's not a problem. Purchase some personal inhalers from Amazon and have an arsenal at your fingertips. My favorites to have on hand at all times? Lavender, peppermint, clary sage, and wild orange. This recipe claims to get your focus and concentration at an all time peak.
8. Music or white noise. I forget to turn music on when I'm working, but when I do, it can change my mood or push the time along just a little faster. I love Google Play because they have mood options. For example, as I write this, it says "It's Thursday afternoon, play music for: New Year's Eve, Keeping Calm and Mellow or Boosting Your Energy". Depending on where my head is at, I can play music to follow suit, or to change my mindset. As an extra bonus, I get to listen to new (to me) artists. If you need a less distracting option, you can search for white noise apps. I prefer rain sounds with a little thunder, myself.
There you have it, 8 ways to brighten your physical space and mental space. Here's to letting the sunshine in your home office space this year!
Are there any tips you can share with us? Leave them in the comments!