This post may contain affiliate links which may give us a commission at no additional cost to you. As an Amazon Associate we earn from qualifying purchases.
Fonts, color schemes, photo filters. Is that a personal brand? Partly, and we'll get to that. A personal brand is what people know you for. Let's say you're at a party, and you walk out of the room. How will you be described? What is your area of expertise? When someone asks for advice on a topic, what is your name associated with? That's your brand. I'll share how you can continue to strengthen the great brand you already have or don't know you had!
What Is A Personal Brand?
Google yourself. Please tell me you do this every so often. Why is this important? How many Jane Smith's do you think there are? If you're looking to create a strong personal brand, you're going to be as easy to find as a needle in a haystack. But, Jane A. E. Smith, that's probably not hard to associate with a specific brand, blog, product or social media platform.
Check your social profiles. Do your profiles match? You want to keep your handles consistent across the board. Mine is @fillpraycloset on every platform. Go ahead, check. I'll wait. The reason I do this is simply to keep my finger on the pulse of the conversation. If someone, anywhere tags me, I'll get notified, it doesn't matter if it's on Facebook, Twitter, Pinterest, or Instagram. You always want to be aware of who's saying what about you and your content, so you can join, add, and extend the conversation (and don't forget to drop a quick thank you, by name of course!)
Don't forget to update those social profiles. As we blog, or spend any time honing our talents, we change. You change. This means you need to update those profiles as well. I recently changed my tagline to reflect more of a social media + blogging focus. I updated my profiles with fresh links to newer content that reflects more of the personal brand I am trying to cultivate. Audit your social profiles and update them accordingly.
Be authentic + transparent. These are big buzz words, so let's just keep it real. Be yourself and embrace it. If you love deep dish pizza with pepperoni, anchovies, and pineapple, don't apologize for it. Rock your pizza face off. If you respond to someone on Twitter, for example, and misspelled their name, apologize and be humorous about it. Don't just delete it as if nothing happened. Your audience notices you trying hard to be perfect, and it isn't attractive. Not to mention the pressure it puts on you to feel that you have to be.
Get out there and meet people. If you're an introvert, this may be tough. I promise there is a tribe out there for you, though, if you just make the effort. Attending blog conferences like Bloggy Bootcamp can help you to meet with others and solidify who you are as a blogger or small business entrepreneur. Sharing your passions with others goes a long way to cementing relationships, while at the same time forcing you to embrace your personal brand.
Images, fonts and colors. Oh my! I promised we'd get to this. Don't pick arbitrary colors.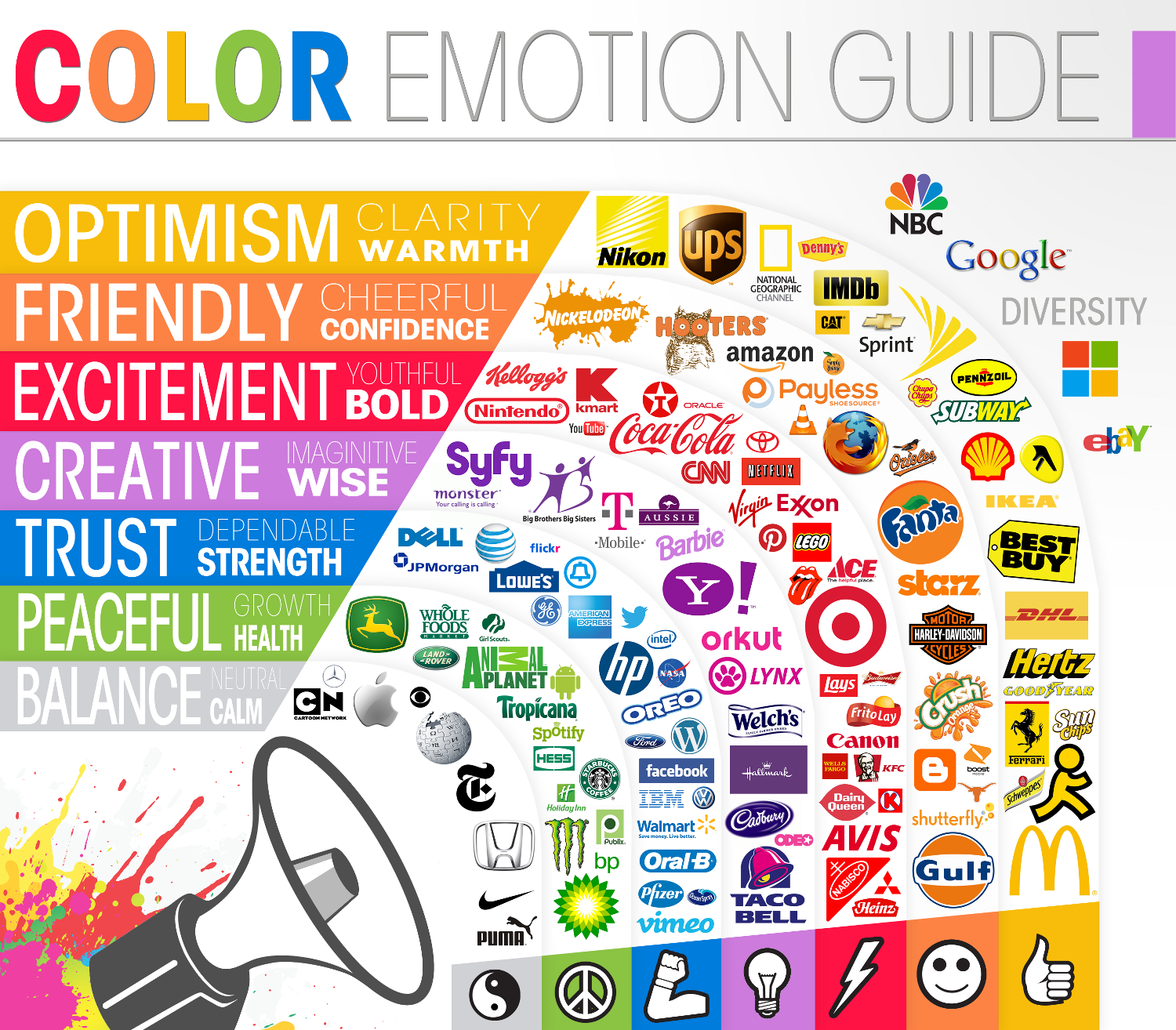 As you can see, there is an emotional psychology to colors and brands. Yours should be no different. Take some time to see where your brand fits and create an online presence around those colors. If you already have an online presence, work backwards and see if your current brand fits what you were trying to convey all along. These colors should be used on all images, headers, business cards, and social media platforms. Andrea Beltrami of The Branded Solopreneur does a phenomenal job of walking you through this for your blog, step by step. At the minimum, pick your colors, fonts, and photo filters and stick with them!
I love quizzes, don't you? My latest favorite is by Kaye Putnam titled the "Brandality Quiz" around Jungian Archetypes. Why not take a moment, and check to see which brand type you are. It can be helpful to get you started and find influencers to watch and follow. I would love get to know other Innocent's. Not sure what I mean? Take the quiz and leave your brand archetype in the comments!