This post may contain affiliate links which may give us a commission at no additional cost to you. As an Amazon Associate we earn from qualifying purchases.
So you want to write a book and have it published? Just follow the 10 easy steps below and you too, can be a published author. Oh, and by easy, I mean writing a book and getting it published probably won't kill you. (Emphasis on probably.)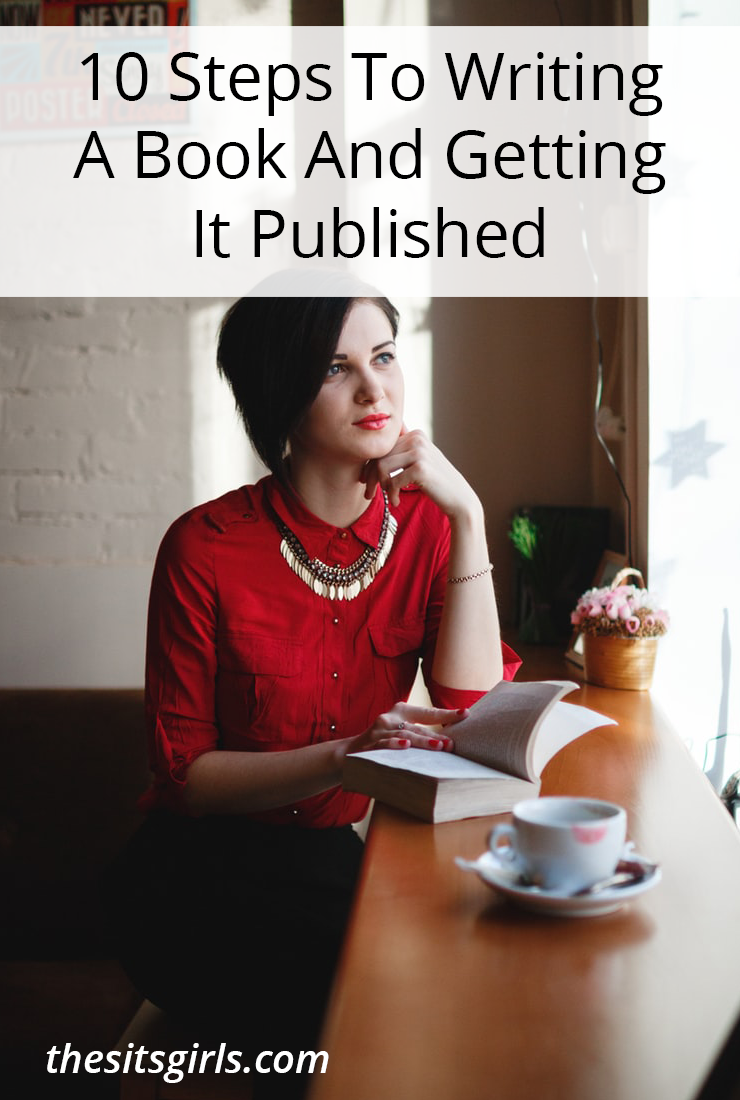 10 Steps To Writing A Book And Getting It Published
1. Write Every Day
Yeah, that's really hard, I know. We're all so busy. Kids, jobs, yoga classes, binge watching Younger – there are only so many hours in a day. But if you want to publish a book, you need to write it first. I wrote my book while working and raising two kids (and a husband). Get up earlier or stay up later than everyone else, but carve out some time every day to write — even if it's only half an hour — and do it.
2. Edit
Now that you've written that first draft, go back and read it, and as you do, make edits. I actually wrote my book by hand. I woke up every morning at 5AM (or as I like to call it, o'dark o'clock) and wrote three pages a day in a spiral notebook. Once I was done, I typed out the pages and considered my book finished and ready to send to agents for representation. (Hint: I was wrong. So very, very wrong.)
3. Send it to Beta Readers
Find a couple of friends that you trust and ask them to read your book and make comments. Do you know an English teacher, another writer, or someone who reads a lot? Ask them. Remember, you are asking a huge favor, requesting something of them that none of us has a lot of: time. So choose your beta readers wisely and pay them back in wine and free babysitting.
It may take them some time to read your manuscript, possibly even a month. That's okay. It's good to get some distance from your book and there's a lot you can do while you're waiting.
4. Write a Query Letter
Warning: writing a query letter is even harder than writing a book. If you have no idea how to write a query letter (and why would you?), QueryShark.com is a great place to start. You can also google "How to write a query letter" and get more information than your little brain can process.
The sites Agent Query, Writer's Digest and Jane Friedman are all excellent resources.
5. Kill Your Darlings
When you get your manuscript back from your beta readers, pour yourself a big glass of wine (or tequila) and try not to cry when you see the marks they've made on your work of art. Remember, these are people you love and trust, and they are only trying to help you.
Now the real editing begins. To quote William Faulkner, "In writing, you must kill all your darlings." And by that he meant you are going to have to eliminate some things you absolutely love in your book. I had to take out some of my favorite passages, entire chapters, and even had to kill off my heroine's brother and his family (as in slash them from the book entirely). They were lovely characters, but they did nothing to move the story along. When I sent my book to my beta readers it was 426 pages; published it is 274. When it comes to writing, less is more. (Says the girl who cannot write a blogpost that is less than 1,000 words to save her life)!
6. Create a Spreadsheet
It's time to get organized. Create a spreadsheet to track what agents you are querying. My spreadsheet looked like this:

It's important to keep track of who you are querying, so you don't contact two different agents at the same agency (a huge no-no) or forget to contact your dream agency.
7. Start Your Search
Now that your query letter is written and you're organized, you need to start searching for an agent who represents books in your genre. But where to start? Jeff Herman's Guide to Book Publishers, Editors & Literary Agents (affilate link) is considered the bible on finding an agent. It also gives great advice for writers in the back of the book. Agent Query and Query Tracker are popular websites to search for agents. I liked Agent Query because you can search for agents by genre.
You can also use Twitter by doing a search with the name of your genre, say sexy zombies, dystopian vampires or YA sick lit and the hashtag #MSWL (manuscript wishlist). Many agents use this hashtag to let the world know what particular genres they are looking for.
Whatever you do, read the agency's website and follow their submissions guidelines.
Being a rebel and not following the rules will get you nowhere fast.
8. Develop a Thick Skin
Let me be blunt: When you are writing a book, you're going to get a lot of no's. Or worse yet (and more common), non-responses. Oh, and in case you're wondering, a non-response also means no. As in, "I'm so busy and important I don't have the time or energy to cut and paste a form rejection letter into a reply email." (Not that I'm bitter about the countless non-responses I received.)
Pour yourself a glass of wine (or freezer vodka), toast yourself for trying, and move on. After a month or two, if you haven't received a request for a partial or a full manuscript, you might want to tweak (or completely re-do) your query letter.
9. Consider Non-traditional Options
If you've been querying agents for a while, and don't seem to be getting anywhere, consider looking for a small press publisher (who doesn't require a literary agent) or self-publishing. I queried 35 agents in the course of two years. That is definitely a lot of time to be querying, but honestly, not that many agents.
Part of the reason I only queried 35 is because I did get a few requests for partials or fulls and had to wait for acceptance or rejection (news flash: it was always rejection), but mostly it was because I did not listen to #8 above and would sometimes get so discouraged I would stop querying for months (and months).
Then a friend of mine told me about Velvet Morning Press, a small press publishing company actively seeking chick lit books. I decided to query them; they requested a full manuscript and then offered me a book deal. Hallelujah!
10. Celebrate your deal
Whether you get an offer from an agent (which I should stress is not a book deal, but an awesome thing to be super proud of that will quite possibly lead to a book deal), an offer from a small press or independent publisher, or decide to self-publish, give yourself a pat on the back.
Did I lie and say writing a book and getting it published would be easy? Sorry! So. Not. Easy.
But you did what many people talk about, and few people will actually do. Pop the champagne and celebrate!
Then go promptly back to step #1. It's time to write your next book.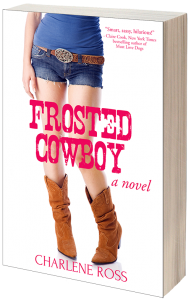 Author Bio: Charlene Ross
Charlene Ross, a Los Angeles suburbanite loves nothing more than making people laugh. And drinking wine. Oh, and her family. (Oops!) Her first novel, Frosted Cowboy (Velvet Morning Press 2016) has received praise from New York Times bestselling author Claire Cook and Publishers Weekly and can be found on Amazon and Barnes and Noble. Charlene can be found online at http://charleneaross.com, as @rossgirl08 on Twitter & Instagram, and on Facebook.
Keep Reading
Want more writing tips? Check out these posts, and start writing a book today!