This post may contain affiliate links which may give us a commission at no additional cost to you. As an Amazon Associate we earn from qualifying purchases.
Do you have the dream of seeing your words somewhere besides your own space?
Many sites will accept submissions from you – even ones that have been posted on your own site already.
Some places pay for content, some pay with exposure. It's really all about what goals you have set for yourself. If you want to put yourself out there more with your work and hope that more eyes on what you've written will take you places, get to it. Go through your blog and see what might fit with other sites. See if you find a place that meshes with your writing style and your content, and submit your writing for publication.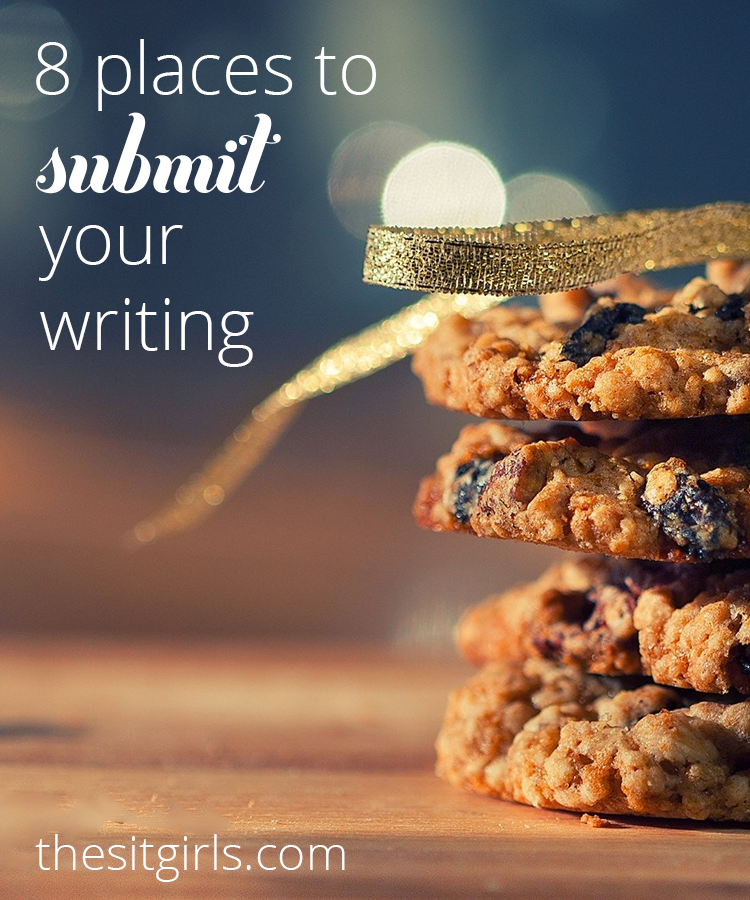 8 Places To Submit Your Writing
I've pulled together a few sites for you to start off with. Do some investigating. And take a chance. You won't know until you try.
Scary Mommy features posts from so many different writers. They're always looking for new content. Sure, the submission rate is high and competitive, but absolutely worth looking into. They've even started accepting already published pieces, so if you have something that you think is a fit for the site, submit it. Their submissions page states that they are looking for humorous pieces. Is that you? Can you make someone relate to you with laughter? You could be a perfect fit!
BlogHer accepts previously published work and considers all sorts of posts for syndication. They accept submissions in areas such as blogging/social media, work, life, family, food, health and entertainment. There are other categories, as well. Another way to get picked up for syndication on BlogHer is to use their platform to publish your posts – as they might catch it on their own that way!
Bonbon Break features several kinds of posts. These include teasers that link directly to full content on your site, complete posts that have been written for Bonbon Break, and posts that have been previously published on your site. If you're planning on writing something or submitting one of your posts to them, take a look at their rooms and try to determine where you think your post would fit best. This will help you assess whether your post will be a good fit for their site before you submit.
xoJane accepts pitches directly through email. If you can give them a good handle on what you want to write about and they not only understand it, but love it? They're likely to get back to you with a go-ahead. They've got some great pitch points on their site that can help with pitches you make to others, as well. Important reminders like "Write like you talk!" and "Be authentic and honest." – both critical to getting your voice out there.
Looking to see your words in print? What writer isn't, right? It would be amazing! And who out there hasn't heard of the Chicken Soup for the Soul series of books? They're still looking for submissions. And you can find out what's currently in the works on their website's possible book topics page.
Known for their anthologies (which you can submit to), HerStories is also accepting submissions to publish on their site. They've got some fantastic information on what makes a strong personal essay appealing to an editor or reviewer. It's definitely worth a read. And they pay for accepted submissions. Always a plus.
Did you know you can submit posts to BuzzFeed? That should make so much sense, with the number of their posts that show up in my Facebook feed on any given day it would seem like everyone is posting over there. But not everyone is. And you can. Just log in and submit a post. And, if you think it's good enough? You can suggest it to the BuzzFeed Community for review. No guarantees, but they give you some ideas of what does well on their site.
Did you know we accept guest posts and submissions here at SITS? We've got a full run-down on aspects your post will need to have to be a good fit for our site, but if you're a regular reader you probably already know much of what we're looking for. We especially like featuring fantastic blog tips on our site where we grab an excerpt of your post and then direct our readers to your blog. So if you've got some great blogging related posts on your site, pick your favorite and submit it.
So, there you have it. A few sites for you to look into and consider submitting to. It's scary. It's intimidating. It's weird how hitting the publish option on our own sites is so easy at this point, but submitting our content somewhere else is terrifying.
But the most important thing to remember is that no matter how many times you receive a no thank you? You'll never get a yes if you don't try. So give it a shot. And let us know how it goes. Good luck. And stay motivated. You CAN do this!