You've probably heard again and again that writing great content is paramount to the success of your blog. Your writing is the hook that draws the audience into your world. It is the tool you use over and over again to educate, entertain, and communicate with your audience. It's so important to get it right and the blogosphere is full of writing advice. Some of it is very helpful and improves your skills. Sadly, a lot of it is awful and does nothing to help you write your best content. Rather, it frustrates you or becomes a kind of shackle that inhibits your best writing. The worst writing advice I ever received includes six common tips.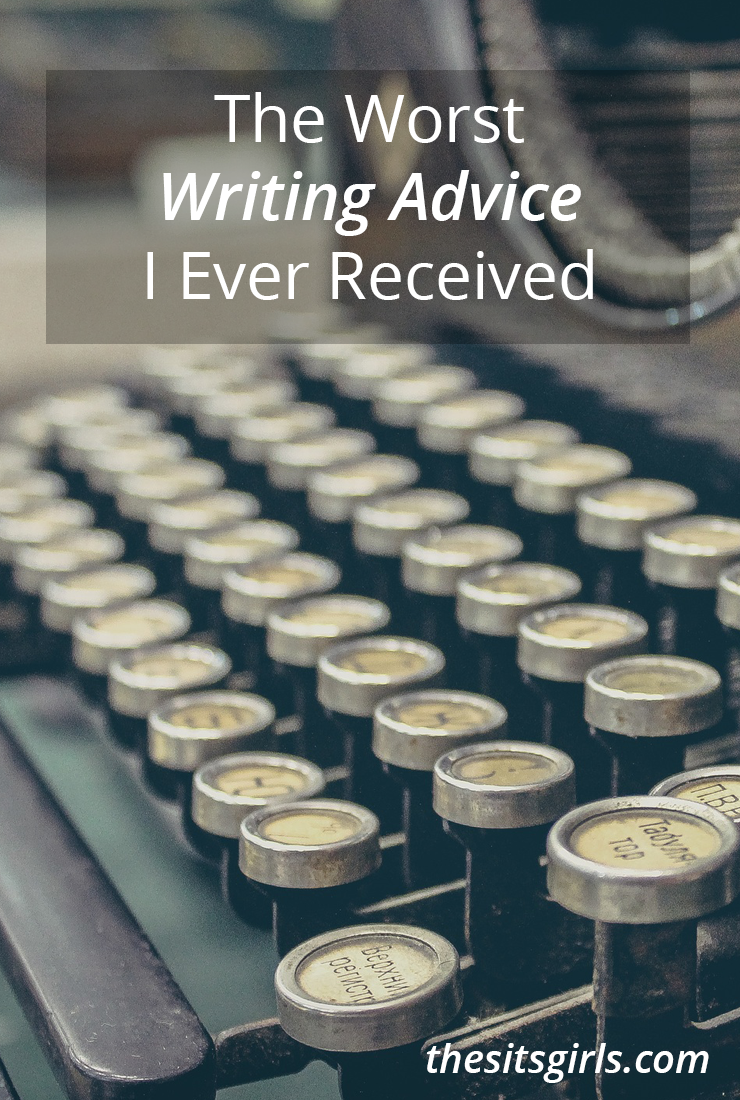 6 Pieces Of The Worst Writing Advice
Writing advice runs the gamut from grammar and punctuation to headier advice like "live your character / scene / location" etc. For bloggers, writing is a bit different than a journalist or novelist.
Never Ever Use Adverbs. Why? I don't really know. Personally, I love adverbs. I can't get enough of them. They are superbly wonderful and add exponentially to my writing. Of course, using them too much is a problem. But you can see my point. Adverbs are interwoven into our conversations. They are part of our communication system. They have a place in our writing.
Avoid Adjectives. Again, why? Because they don't belong in college papers? Have no place in business communication? This is blogging! We need adjectives to describe the food, photography, action, textures, etc. Without great adjectives our writing is dull and boring. Want an audience of zero? Then leave out the lovely adjectives. Otherwise, incorporate them into your writing to attract your reader.
Above All Else – Never Write How You Speak! This tip means, write like you would in college. Boring, boring, boring. No one wants to read something that sounds like a student paper. Of course you should write like you speak when you are a blogger. Have a conversation with your audience.
But Always Write Like You Talk! Huh? Now, this is just ridiculous. If we write verbatim how we speak, for most of us our writing will be riddled with "ums", "and", "like, or "dude" (yeah, I say that a lot). Wouldn't that be awful for your readers? They want to read something interesting, intriguing, educational, and intelligent. Use these phrases sparingly. Otherwise, you risk your credibility as an authority. Rather than writing "Um, you wanna make an awesome iced coffee recipe?" Write "I have a terrific iced coffee recipe you're going to love!"
Avoid Passive Voice and Verbs; Never Use to Be. I frequently break this one. My favorite phrases include "be, by, being". Why? Because that is how I talk. Unfortunately, according to one writing resource, using passive anything is a deadly sin. Oh, dear!
Write Every Day. This is great advice if you're a professional writer. For the rest of us, life includes jobs, families, pets, friends, blogs, and even small businesses. We simply do not have time to write every day. Frankly, writing every day because you are told it is a "must" makes it a chore rather than something enjoyable. Writing should be (dear, dear, there's one of those pesky "to be passive verbs") something you enjoy and find satisfaction.
The BEST writing advice I've ever received?
READ! Reading is one of the best ways to expand your vocabulary, sentence structure, and writing style. Explore different types of books to develop a variety of dialogue, topics, and settings. Experiment with your writing based on what you are reading and go with what speaks to you.
PROOFREAD. Always, always, always.
SPELL CHECK. There are few things more annoying to the reader than coming across a misspelling. Do yourself and your reader a favor — use spell check.
Above all else, don't take writing advice too seriously. Find your voice and be (there it is again!) true to yourself.
Keep Reading