This post may contain affiliate links which may give us a commission at no additional cost to you. As an Amazon Associate we earn from qualifying purchases.
Dear Writer,
It happens to me. I pour my heart into the words, backspacing and editing until the letters blur on the screen. I hit publish, and my creation disperses into billions of pieces throughout the internet, waiting for someone to read. Will anyone read? Will anyone care? Will my words make a difference to anyone out there?
I get comments from loyal readers, mostly fellow bloggers in my tribe. But would they notice if I stopped blogging? With so many of us out there, do my words matter?
They do, and so do yours. You may not know when, or to whom, but they matter.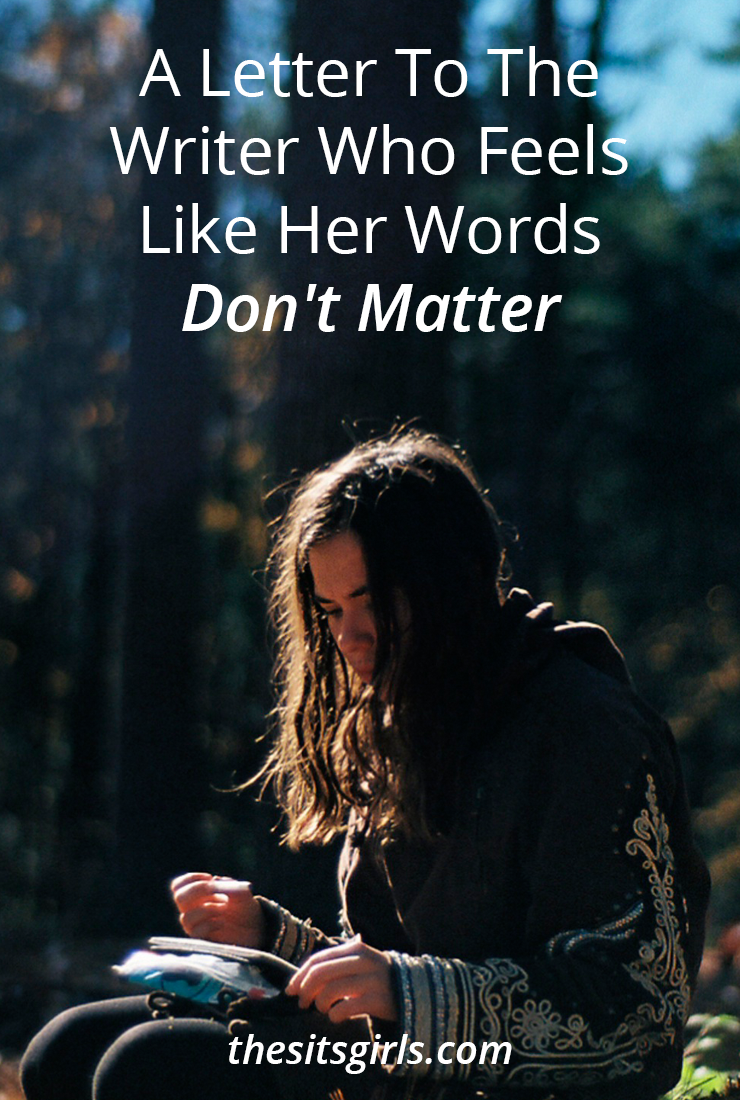 I had never commented on a blog before I became a blogger myself, and I think that's fairly common. Just as blogging is putting yourself out there, leaving a comment can be intimidating to a reader, or not worth the time and effort. Don't interpret the lack of comments as a lack of interest. 
You never know when your words will make a difference. There are so many ways your writing can matter, even if you aren't aware of them. 
Your words may make someone laugh. Sometimes I write for the sole purpose of making my readers smile. I'm not solving a problem or sharing a helpful tip, but I'm bringing a bit of humor to someone's day. That matters.
An acquaintance once told me that on the mornings she received an email alerting her of a new post from me, she would wait for the kids to go to school, then settle in with her cup of coffee and read. My writing was something to be anticipated with pleasure. I remind myself of this when I question the impact of my words.
Your post may make a reader nod her head in agreement. She may think, "Thank goodness it's not just me," or "It's reassuring to know someone else feels the same way." Sharing your own experiences may help others feel less alone. That matters.
There are infinite commonalities in the human experience, and your writing touches on the ones to which you relate. Whether you share your struggles, triumphs, dilemmas, or celebrations, they will strike a chord with someone who reads.
Your words may educate. It could be a new recipe, a diy project, or a book review; if your writing leaves the reader knowing more than she did before, that matters.
When a reader tells me how much she enjoyed a book I reviewed or a product I recommended, I know that my words made a difference. 
Your words may build bridges and make the world smaller. I have met men and women from a variety of cultures and backgrounds; most are people I would never meet in person. They live across the ocean, or they simply live a life completely different from my own. I know them through their writing, and their words have made my world larger. Sharing our experiences encourages empathy and compassion, and that matters.
Your words are more than page views and social media statistics. The post with one hundred Facebook shares is not necessarily better than your post with none, although that can be hard to remember in a world where many define success and popularity with likes, retweets, and favorites.
If you are still skeptical, let me ask you two final questions. Do your words and your writing matter to you? Would you still write if no one else read your words?
I suspect that the answer is yes, or you wouldn't be reading this letter. You care about your words mattering to others because they matter to you. If you find joy in writing, then it matters. If writing helps you express your thoughts and emotions, then it matters. If writing gives you peace or closure, then it matters.
Keep writing, because your words make a difference.
Sincerely,
A fellow blogger