This post may contain affiliate links which may give us a commission at no additional cost to you. As an Amazon Associate we earn from qualifying purchases.
Sometimes there is a lot of pressure to put together the perfect blog post. You know, it needs to be deep, but funny. It's got to have a "pinnable" picture and short sections for quick scanning. It's got to make people think and it's got to give people actionable steps. It needs to tell a story and it needs to be practical.
There are parts of me that write because I feel compelled to write, but, honestly, that is not always me, all of the time. When I feel like I am in a huge writing funk and the little writing muse is playing hide and seek with me, there are a few things that keep me in the game. So, just in case that writing muse plays hide and seek with you, too, here are a few things that keep me going.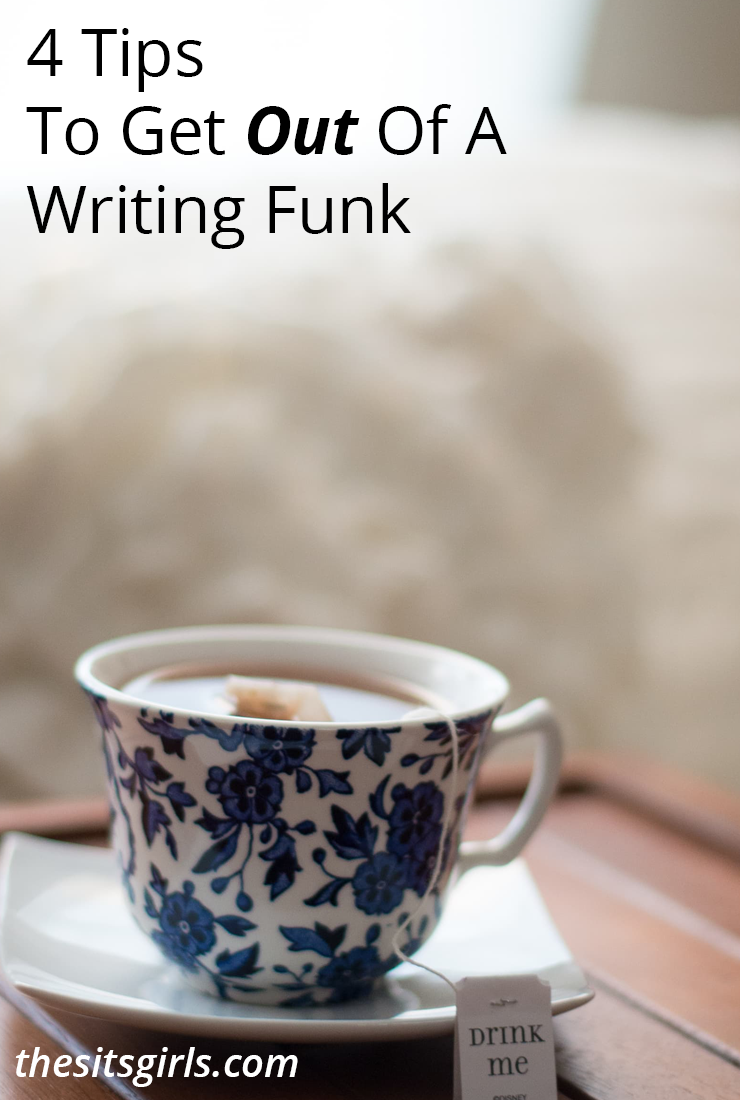 How To Get Out Of A Writing Funk
1. Set Goals
Realistic goals are the name of my game. I tend to shoot really high and then feel really stressed to meet those goals. When I inevitably don't meet them, I feel defeated. Now I try to set goals based on the season I am in. Maybe writing everyday is no big deal for you. Maybe one post a week is all you can squeak out.
Pick a writing goal that is doable and really give it your best effort. Right now, my goal is two posts a week, with some writing for purposes outside of my blog as well. There have been times when my goal was three times a week, and there have been other times when I have blogged for a month straight. Whatever is feasible for you to accomplish, make that your goal.
2. Get Accountability
Starting a writing group has become an absolute game-changer for me. We share our goals with one another monthly, which lights a little fire under me to actually accomplish those goals. Obviously there is grace when I don't, but I don't want to show up month after month not meeting any of my goals. I work a little harder towards the goals I set, because I know I will have to report to these lovely ladies how I have done! Plus, having a group of writers who get what I am doing, and who are doing the same things, has been an invaluable encouragement to me!
If you are able to, I highly recommend joining a writing group. If there isn't one that is open to you, start your own. If you are too shy to start your own, find some accountability in posting your goals online somewhere. A little healthy peer pressure is a great motivator, so do what you can to find that.
3. Just Write
Seriously, stop thinking about it and just start writing. Maybe what you write will be a jibber-jabbery mess. That's okay, sometimes. Like all other artists, athletes and craftsmen, writers need to hone their skills.
I was a gymnast…so here goes my best attempt at a clear gymnastics analogy. You don't win the Olympics by thinking about how to do your routines. In order to improve, you first have to learn all of the skills. Then, once you are able to put them together into a routine, you get out on the floor and do your routine. Hundreds of times. Then you to stop and fix the pieces of your routine that need fixing. You cut pieces out. You change different parts of the routine. Then, you do it over and over again. For every Olympic gymnastics routine that lasts 1 minute and 15 seconds, there were tens of thousands of routines done by that same girl over just as many hours in a gym. That one moment in the spotlight is so stunning because of the hard work put in back home.
Writing is no different. Put the hours in. Write. Edit. Revise. Trash some things. Tweak some things. Let one idea lead you to another. Get in there and do the work. That perfectly polished award winning piece won't come from sitting there thinking about how to write something amazing. But it might not be as far away as you think, once you start putting in the time and the practice.
4. Read
I have heard this said time and time again: great writers are avid readers. Because I teach students who often struggle with reading comprehension, I work regularly with kids who hate reading. Those students always have trouble writing. Sometimes they struggle with ideas and cohesive thoughts, while other times they have great ideas, but can't get them down on paper. In both cases, getting them to read more gives them so many more tools for writing.
Reading stories helps grow their imaginations. Reading non-fiction helps to grow their vocabulary. Reading anything helps them better understand writing conventions, sentence fluency, and word choice. Overall, the students who read more are inevitably stronger writers.
The same is true for us as adults. The more imagery laden texts we read, the better we become at painting a picture with our words. The more unique language we encounter, the more varied our own language usage becomes. The more inspired writing we immerse ourselves in, the more we are able to find our own inspiration. So, when you are in a writing funk, try picking up a classic, that new best seller, or a thought provoking non-fiction book, and start reading.
If I am being honest, I wrote this post for myself, today. I had nothing to write about earlier, but I felt the pressure since I had shared with my writing group that I would write two posts per week this month. So, this evening, I sat down to write, after reading a great blog post this morning. That post had nothing to do with this, but the words were just perfect and the simple concept was spot on.
Did you see that?
Goal, Accountability, Just Write,  Read….
And now I have this post.
Simple as that people. Simple as that!
What are your writing tips for when you find yourself smack in the middle of a writing funk?
Author Bio: Danielle
Danielle is a Wife, Mother, Friend, Teacher, Carrie Underwood lover, Coke drinker, Run-On sentence writer, Barre Fitness instructor, and Iced Espresso addict! She blogs at Danielle-Marie.com!
Keep Reading