This post may contain affiliate links which may give us a commission at no additional cost to you. As an Amazon Associate we earn from qualifying purchases.
As a writer, you're always trying to find ideas and using a myriad of methods in which to locate them.  I use writing prompts, news headlines, pop culture, friends' and family member's past and current situations, pet peeves, and the odd assignment – any means necessary in order to find writing inspiration and a good story to share. 
Sometimes, it's so difficult, even with a wealth of subjects, to commit to writing and finishing an essay or article. When I'm stumped and cannot write something that moves me (and hopefully others), I question the worth in writing. However, there are those crazy times and places when I automatically and involuntarily come up with ideas and phrases whether I want them at that moment or not. When that happens, I'm almost more flummoxed than if the writing well were dry! Here are times and places when ideas magically arrive but not necessarily when I can easily write them down.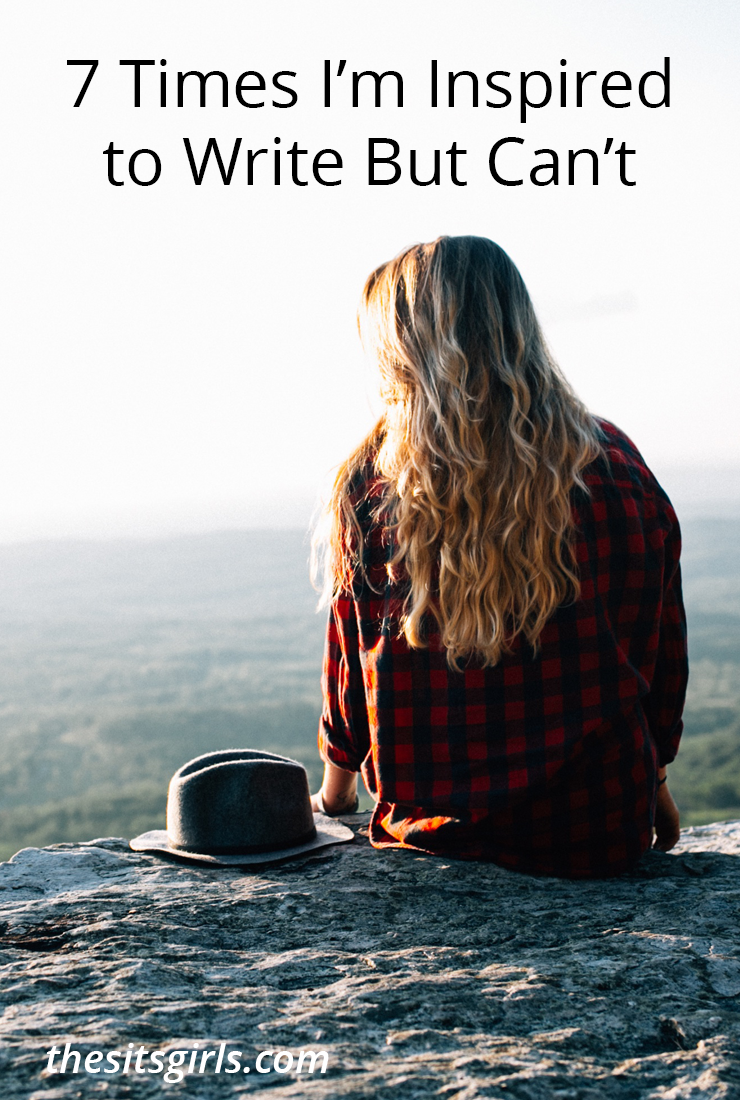 Writing Inspiration At Inopportune Times
In The Shower
Just this morning, during my shower, when my hair was frothed with foam, three ideas sprung up in my brain. While I quickly rinsed myself off, I repeated the ideas like a mantra, so I wouldn't forget those precious gems. Since my notebook was all the way downstairs with no pen within reach, I threw on a towel, dried off my feet, and scrambled to grab my notebook, shivering, dripping on the carpet, while I wrote my ideas down. I really hope my neighbors couldn't spy me making a mad dash in that sorry state. At least my towel stayed on!
Driving The Car
It happens all the time. I'm driving along, and it could be on a lonely, boring highway or a scenic, residential street, and suddenly, out pops a bunch of ideas, or the exact word sequence, or a perfect opening for something I'm writing. The agitation I feel when I'm supposed to concentrate on driving, yet need to write down my idea right away, is like an incredibly itchy, fresh mosquito bite. Usually, I cannot stop the car and park or pull over to the shoulder. What happens is, I rummage through my purse, trying to find a pen with ink and the notebook I store there. Although I know this is an unsafe driving distraction, I scribble the words down at a stoplight without letting my eyes drift from the road.
At Bedtime
Speaking of drifting… I've found that right before my body relaxes and prepares to sleep, an idea will jolt me out of my slumber. Then, until I commit those ideas to paper, I won't sleep. I may doze, but I'm not even close to the stage where waking up involves a fire alarm, loud bump in the night, kid screaming and crying, or reaching for the snooze button to silence my alarm clock. Most of my writing implements and notebooks are on an easily accessible bench near my bed, so I do what they suggest to those who want to recall their dreams or nightmares – I get up and write them down for future analysis, preferably after a good night's sleep.
In The Bathroom
When you gotta go, you gotta go, but what do you do when you gotta write while going? Although I haven't made the leap to carrying pen and paper into the lavatory, just being in a confined space and forced to sit heralds ideas galore. To avoid concentrating too much on the task at hand, my mind diverts in other directions. It's great to find inspiration, but while on the porcelain throne, it's a tad difficult to break from the unstoppable activity and write. I just finish up quickly, and then let the inspiration flow – just not in the bathroom.
At Church
Okay, I confess – I'm a lapsed churchgoer. Raised Catholic, though, I spent many Sunday mornings, Saturday evenings, and religious holidays sitting in a pew, trying to be pious and pay attention but stalling my urges to write. As a kid, I couldn't sit next to my sister because I'd find an infinite amount of things to talk about with her – here it's the same. When I started writing, first in a journal, then progressing to more public forums, the spirit of writing nudged me with ideas. I refrained from writing them down but wish I could just sinfully pull out my notebook and write.
5 Minutes Before I Have to Go Somewhere
When I'm late to events or appointments, it's not in defiance of authority which I read some psychiatrists may suggest, but it's due to poor planning and other obstacles. Although I'm dressed, made-up, have coat on and my keys, phone and purse ready, one thing besides a bathroom break causes me to pause. I lose my focus on the upcoming event and perk up with a burst of inspiration and end up writing something down for future use. There have been occasions when my family must wait in the car for me to finish. I'm afraid one of these days, they'll just leave in a mad rush without me.
In Line at a Store
Inevitably, when I'm waiting in a long line at a store, I'll start thinking and come up with something I want to write. As long as I'm not burdened with packages, my kids aren't unruly or begging for some useless item, and the conveyor belt is within my sight, I'm able to juggle my belongings, fetch a pen, and balance my notebook against my knee to write whatever will tide me over until I've paid for my purchases and headed out to my car.
Where does writing inspiration usually hit you?
Author Bio: M.B. Sanok
M.B. Sanok is a freelance writer and stay-at-home mom living in Southern New Jersey. She is a Contributing Writer for Jersey Moms Blog and Virtua for Women. Her work has also appeared in South Jersey MOM , MetroKids MomSpeak, BlogHer, BonBon Break, Midlife Boulevard, Mamalode, Club Mid, and I Just Want to Pee Alone. In her spare time, she volunteers for the International MOMS Club, a non-profit support group for stay-at-home moms. Her personal blog is Maple Brown Sugar.